January 27, 2022. Nepal Mountaineering Association (NMA) today distributed warm clothes and health essentials to 200 leprosy affected people sheltered at Khokana Leprosy Camp.
The distribution is carried out under the project ''A humanitarian Support program for COVID-19 affected mountaineers and Leprosy Affected people'' initiated by NMA with the funding support from the Nippon Foundation (TNF) of Japan.
In a program organized at the premises of the Khokana Arogya Aashram, the chairperson of the Dakshinkali municipality ward No. 2 Mr. Ramchandra Kshetry, president of NMA Mr. Santa Bir Lama and Administrative Officer of Nepal Leprosy Relief Association Mr. Jeet Bahadur Hamal handed over warm clothes and health essentials to them.
NMA General Secretary Mr. Kul bahadur Gurung, Secretary Mr. Tikaram Gurung, Treasurer Mr. Sudarshan Neupane, Secretariat member trio Mr. Dipendra Pandey, Mr. Singi Lama & Mr. shiva Bahadur Sapkota, Central executive Board Members Mr. Sanjeev Gurung, Mr. Pasang Bhote, Mr. Sarki Tamang and Chief Executive Officer of NMA Mr. Kul Prasad Rai also accompanied the distribution program.
Every person sheltered at the camp received a Jacket, a double sized blanket, a bottle of 236ml hand sanitizer, a pair of Dettol soap & a packet of masks containing 50 pieces. The camp is currently serving 200 leprosy affected people coming from across the country. The recipients expressed their gratitude towards the NMA and TNF for the help.
''This is not the first time the Nippon foundation helped us. I still remember receiving great help from the foundation. We are very much thankful toward the Foundation and NMA for doing all this for us,'' Mr. Uma Prasad Tiwari, a leprosy affected person at the camp said, ''We have nothing to give you back but I want to thank the president and members of the foundation. Also, would like to thank the NMA family for thinking about us.''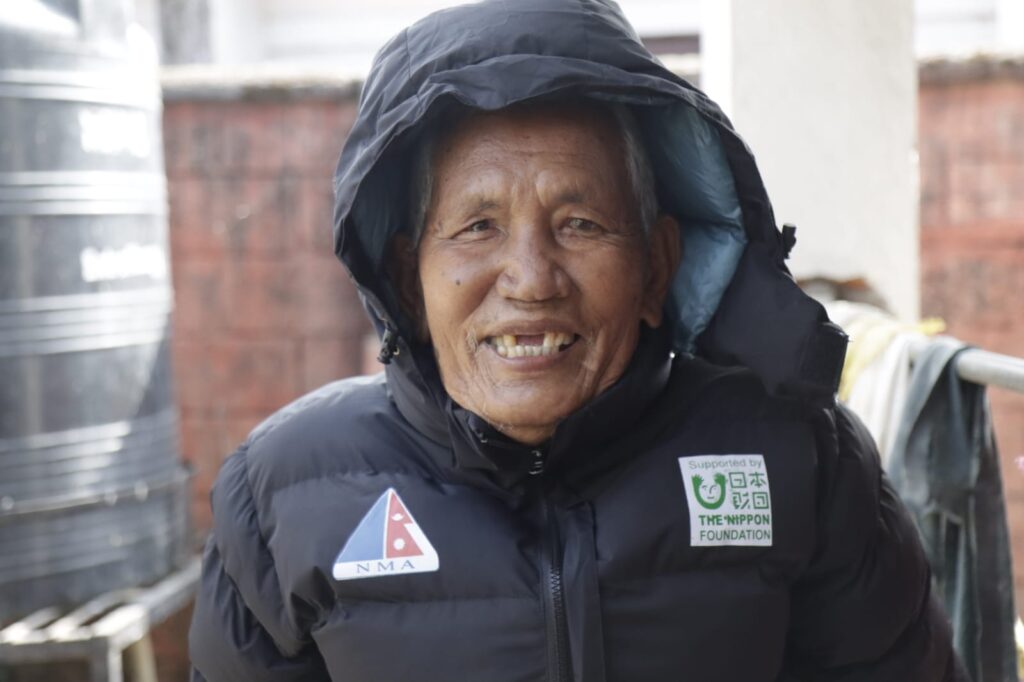 NMA president Mr. Lama traced the history of TNF helping the leprosy affected people of Nepal. ''I have come here time and again with the delegates of the Nippon Foundation. This time also it is possible only because of the Foundation'', President Mr. Lama said, ''Respected Chairperson of the Foundation Mr. Hohei Sasakawa and the staffs have been showering their love from the very beginning. I believe this would help you all to deal with this chilling winter.''
A senior Director of the Foundation Mr. Seko Masato had also addressed the event. He wished that the help would be important for their daily lives.
''This is a great opportunity for us. This is one of the area the foundation is working from the very long time,'' Mr. Seko, connected through zoom, said, ''I hope this will be important for you all. I also want to thank the president of NMA Mr. Santa sir and NMA family for doing this.''
Program Director of the foundation Mr. Makoto wada and program Officer Remi Masuda had also joined the program through zoom.
NMA is also distributing relief (food) Packages to three thousand (3000) Mountaineers next month under the project.